Here follows information relating to the glorious path of the 591st Expidition, whose forces comprised of the Mighty 12th Legion, the Imperial Army of our Emporer, and his allies of the Mechanicum. Here they did strive to bring another lost branch of mankinds lost children into the shining light of the Imperium
.
+++ Warp translation complete.. transit time 96days14hr..+++
..
...
+++Data Probes launched--Initial transmissions received, Standby++++

..
..
...
+++System identified..+++ Konos system.. Data received displaying ++++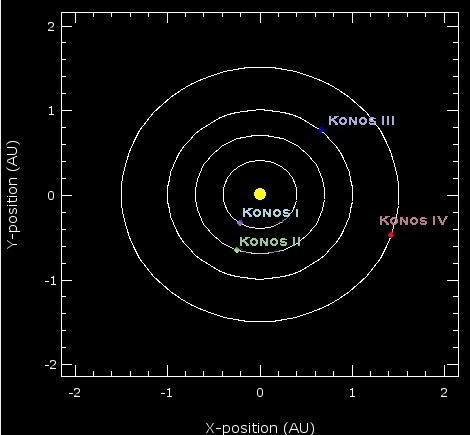 +++

Negative heat or energy distortion proximity reading

.. defense status reduced to Gamma
+++
..#
..
+++Konos I// Class B/Molten..Asteroid yield potential 65%+++
+++Konos II// Class F/Low atmosphere pressure/No life detected/High metallurgy content/Mechanicum contacted.. Additional resource probes launched+++
+++Konos III///
.
..
...
@@WARNING@@ Fleet enter defense pattern Beta/Epsilon @@WARNING@@
+++Human life detected (p. 99.87%)+++ estimated Population 2billion..@@ Fleet Alert Status Alpha +++ Standard

I

mperial greetings transmitted all frequencies ++
.
..
+++NEGATIVE transmissions received+++
.
++SUMMARY: Atomic(+/-) technology level//+++
+++Fleet moving into upper orbit approach. ETA 68days4hrs. Reconnaisance probes launched..+++
.
..



Continue to Moments of the Crusade Part 2..